Dr. Randi Fredricks, Ph.D
"My personal life experience and own therapy have given me compassion for the twists and turns of life, a phenomenon I equate to whitewater rafting. By respecting the unique nature of each individual, I have seen firsthand how a steady psychotherapy relationship can make all the difference."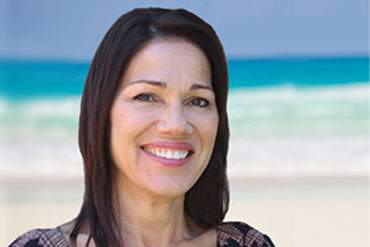 Randi Fredricks, Ph.D. is an  anxiety disorder specialist with over 30 years experience in anxiety counseling.
Since 1985, she has worked with individuals and couples helping them to improve their lives. In addition to her psychotherapy practice, she is a published author and lecturer. Her books have become best-sellers and have been noted in publications all over the world.
Dr. Fredricks received her journalism training from Santa Clara University and graduated from there with a BA in Communications in 1991 after completing published research on communications. She has been the lead researcher on a number of studies, two of which have been published: Communication Apprehension among Adult Children of Alcoholics and An Exploratory Study of the Effects of Water Fasting for Depression.
Her education includes a Bachelors of Arts degree in Communications from Santa Clara University, a Masters of Arts degree in Counseling Psychology from John F. Kennedy University, and a Ph.D. in Psychology from the Institute of Transpersonal Psychology. In addition to her formal education, Dr. Fredricks has the following training and certifications:
Master Practitioner Neuro-Linguistic Programming (NLP)
Certified Health Practitioner Neuro-Linguistic Programming (NLP)
Certified Hypnotherapist
Certified Clinical Nutritionist
Certified Clinical Herbalist
Registered Addiction Specialist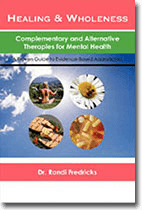 Her first book, Healing & Wholeness: Complementary and Alternative Therapies for Mental Health, is used as a textbook on integrating natural medicine into counseling, psychotherapy, and psychology. It provides a comprehensive overview of complementary and alternative treatments for mental health, with information and research on their effectiveness for treating specific disorders.
Healing and Wholeness: Complementary and Alternative Therapies for Mental Healthhas twenty-two chapters that document research and the current practice of using complementary and alternative therapies in treating a number of disorders, including depression, anxiety, ADHD, autism, and addictions.
The therapies covered are both state-of-the-art and ancient, including naturopathy, psychotherapy, hypnotherapy, nutritional therapy, herbal medicine, meditation, and others. Each chapter begins with a description of the classification of the disorder, followed by discussions of scientific documentation on diet, nutritional therapy, herbal medicine, complementary and alternative therapies, psychotherapy, and lifestyle changes.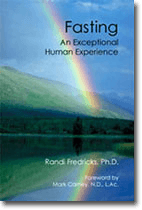 Her second book Fasting: An Exceptional Human Experience is about the long history of fasting for medical, psychological, spiritual, and political reasons. provides detailed information on the different types of fasting, where people fast, the physiological process of fasting, and the contraindications and criticisms of fasting.
Using existing literature and original research, Dr. Fredricks focuses on the transformative characteristics of fasting in the contexts of psychology, medicine, and spirituality.
The relationship between fasting and transpersonal psychology is examined, with a focus on peak experiences, self-realization, and other exceptional human experiences. Dr. Fredricks demonstrates how fasting can be profoundly therapeutic, create global paradigm shifts, and provide personal mystical phenomena.
Dr Fredricks' latest book Alternative Treatments for Anxiety provides revolutionary remedies for healing anxiety through proven all-natural methods. The book provides checklists of symptoms, possible disorders, and corrective formulas along with simple but thorough explanations of how the biochemistry works.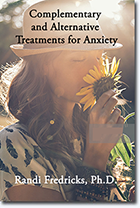 As a part of her ongoing training and education, Dr. Fredricks participates in ongoing training, consultation, and therapy because she is committed to continually learning new evidenced-based approaches to counseling and psychotherapy.
In addition to being a best-selling author, Dr. Fredricks has been a lifelong painter, receiving international recognition for her work.  She has been a web designer and created her own websites since 1998.
"My theoretical orientation is relational and experiential. The relational aspect stems from the importance I place on kindness and the healing potential of the therapeutic relationship. The experiential part is because of the value I find in each of our personal set of experiences. My role as psychotherapist is to listen carefully and to respond thoughtfully as we create a new way of relating."
Randi Fredricks, Ph.D.